Cheap Car Towing Service in Richmond
You can never truly know what the future has in store for you. However, as prepared as you might be, a roadside problem can happen. That is why you should have a roadside plan in case of any eventualities. One of the major benefits of having a car towing service ready to be hired is that they can assist you when you need them. Richmond Fast Towing is such a reliable car towing service in Richmond that can give you peace of mind by ensuring assistance during your time of need.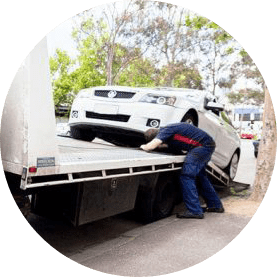 An electrical or mechanical malfunction can bring your car to a standstill and you need to ensure you have Richmond Fast Towing to take care of you during that time. Not having a good car towing service at the ready can result in you being stranded or your vehicle being impounded.
Why Choose Us For Car Towing Service In Richmond?
Here are a few major reasons of having us by your side:
Fast Response Time: You might be rushing to get to your office on time, only for your car to break down suddenly. Quickness is important in such a situation here and Richmond Fast Towing can take care of towing by immediately coming to your aid. A towing service at hand can be better than calling a towing company as an emergency as a towing service will be well prepared to reach you right away.
Vehicle Care: We have your car's best interests at heart. Unlike towing services, towing companies only care about the bottom line and will not handle your car with the care it deserves. They will only be interested in getting to the destination as fast as possible and get the money from you. It is highly likely that you will end up losing more money in repairs due to their negligence and improper handling of your car. Such a situation can never happen with a car towing service like Richmond Fast Towing.
Licensing: Unfortunately, most towing companies do not have the necessary licenses to carry out operations on the road. The wrong tow company can damage your car further. Richmond Fast Towing is fully licensed and certified so you can rest easy. A car towing service needs to give the proper service to the customer and keep the relationship good and going, unlike a towing company that is focused on a single job.
The importance of a towing service like Richmond Fast Towing is often neglected by most people. It is important to know that you are not allowed to use other cars to pull your broken-down car in city roads.
How Richmond Fast Towing Works
The car is attached to the towing truck via a rope, chain, or strap. The connecting mechanism is double-checked for weakness or damage before setting off. The steel hooks are not connected to the bumper as it might get ripped off during the journey. All cars have a hook connecting mechanism.
The ideal route is fixed beforehand. The route will avoid built-up areas and is chosen in such a way that there are minimum stops. This minimizes the risk for any damage or accidents while reducing the time of the journey.
We follow the road slowly, preventing sudden movements that might cause the attachment to break or cause damage. We regularly check the rear-view mirror and surrounding to ensure safety.
Richmond Fast Towing – the best car towing service in Richmond
Richmond Fast Towing offers 24-hour car towing service all over Richmond at great prices. We are equipped with heavy, medium, and light-duty trucks and GPS systems to ensure the best service possible for our customers. Call us on 0411 533 555 for emergency towing services.